1532nm High Power CW Fiber Laser

Connet Laser Technology Co., Ltd.

2020-03-30

Connet 1532nm high power CW fiber laser adopts all-fiber integrated design to achieve the high output power up to 30W, the narrow spectral width of <1nm and meanwhile the near single-mode beam quality. Due to the applied microprocessor-based control systems, the 1532nm high power CW fiber lasers are stable and maintenance-free.
The benchtop system uses the LCD on the front panel to display the output power, the temperature and the other working status in real time. The LCD also can provide the alarm information in time. The interface is clear and easy to operate. For the convenience of system integration, the modular package is also available for option upon request.
Features
• High output power
• Excellent beam quality
• High stability and reliable performance
• All-fiber structure
• Single-mode output, PM optional
Applications
• LiDAR
• Remote sensing
• Test and measurement
• Pump source
• Other scientific research
Main Test Data:
| | |
| --- | --- |
| Parameter | Test Result |
| Max Output Power | 32.0W |
| Central Wavelength | 1532.77nm |
| Operation Mode | CW |
| Polarization | Random |
| Linewidth | 0.04nm |
| Beam Quality | <1.5 |
| Output Isolator | None |
| Output Fiber Length | 2m |
| Output Fiber Type | LMA-GDF-25/300 |
| Output Connector | End Cap |
| Output Spectrum | Fig. 2 |
Product Information and Test Equipment:
Product Name

1532nm High Power CW Fiber Laser

P/N

VFLS-1532-B-30-HP

Main Test Equipment

Power Meter (OPHIR, FL250A-BB35)

Optical Spectrum Analyzer (Anritsu, MS9710C)
Test Environment and Power Supply:
| | |
| --- | --- |
| Parameter | Specification |
| Power Supply | 100~240VAC, 50/60Hz |
| Storage Temperature | -30℃~ +70℃ |
| Operating Temperature | +10~+50℃ |
| Test Temperature | 25℃ |
| Humidity | <90% |
Schematic Diagram of Test:

Fig. 1:Schematic Diagram of Output Spectrum and Power Measurement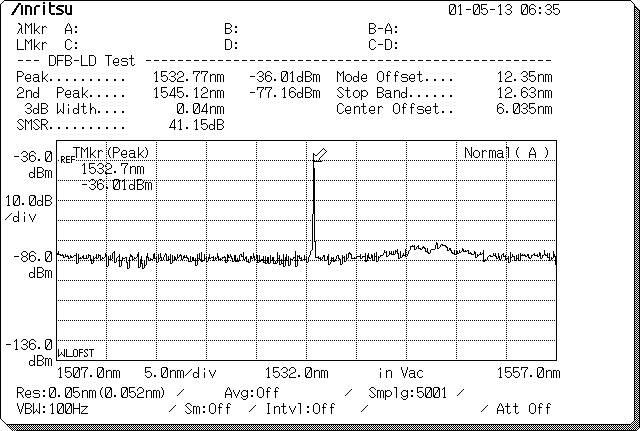 Fig. 2:Output Spectrum (32W)