VENUS Series 2.0um High Stability ASE Light Source

Connet Laser Technology Co., Ltd.

2020-03-24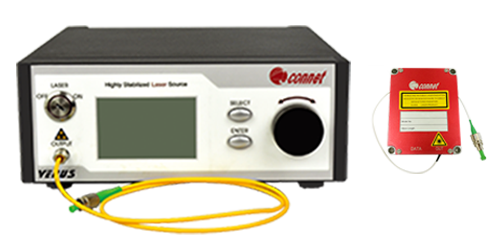 VENUS series 2.0um ASE broadband light source of Connet employs the all-fiber integrated design of optical path structure with the high-power, high-performance single-mode (multi-mode) pump laser used inside and the technology in processing single-clad or double-clad fibers. For this laser system, the linear polarization output is optional and the output power is continuously adjustable.
Connet VENUS series high stability ASE light sources are with highly stable output. The long-term stability of the output power is even better than 1%. Connet utilizes a unique heat treatment process to ensure the long-term stable operation of the benchtop ASE light source. The adopted professionally designed high-speed response protection circuit can guarantee the security of the entire system.
Connet high stability ASE light source is a highly integrated system. Both the OEM module and the benchtop packages are available for option to meet the application requirements for different customers. The benchtop system uses the high-definition LCD to display the current and voltage synchronously and the output power can be continuously adjusted on the front panel or via control software. Connet high stability ASE light source is quite suitable for scientific research and production testing.
Features:
• All-fiber structure
• Output isolation
• High stability output
• Turn-Key system
• Mid-infrared wavelength range


Applications:
• Test and measurement
• Spectroscopy
• Gas sensing
• Biomedical application
• Other scientific research
Main Test Data:
| | |
| --- | --- |
| Parameter | Test Result |
| Output power | 20mW |
| Wavelength range | 1820-2020nm |
| Storage temperature range | -40℃~+85℃ |
| Output fiber type | SM1950 |
| Output connector | FC/APC |
| Output fiber length | 1m |
| Output spectrum | Fig. 2 |
【Notice】The output power was measured with the fiber connector.
Product Information and Test Equipment:
Product Name

2.0um High Stability ASE Light Source

P/N

VASS-Tm-2000-B

Quantity

1 set

Main Test Equipment

Power Meter(OPHIR NOVAⅡSeries)

Optical Spectrum Analyzer (Anritsu MS9710C)
Test Environment and Power Supply:
| | |
| --- | --- |
| Parameter | Specification |
| Power Supply | 100~240VAC |
| Test Temperature | 25℃ |
| Humidity | <90% |
| Warm-up Time | <30mins |
Schematic Diagram of Test:

Fig. 1:Schematic Diagram of Output Spectrum and Power Measurement
Measured Spectrum: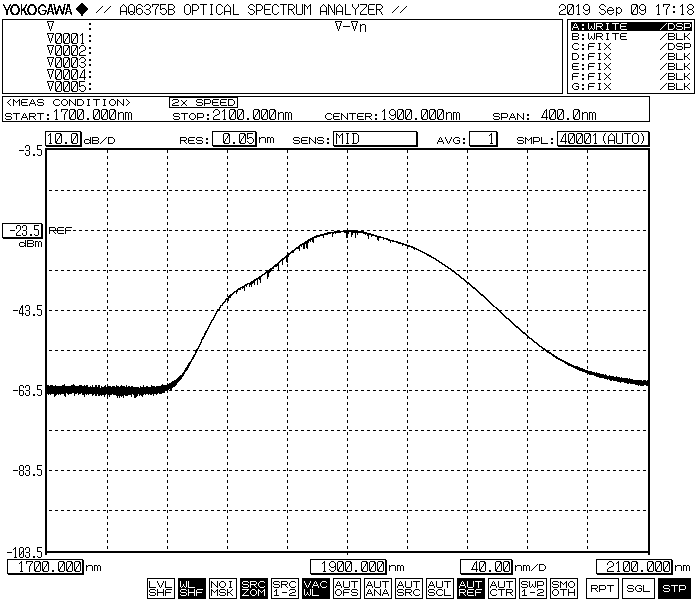 Fig. 2:Measured Spectrum