Connet successfully launched the first generation low noise single frequency fiber laser

Connet Laser Technology Co., Ltd.

2015-11-19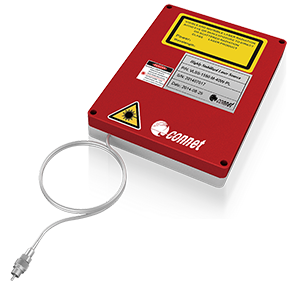 Connet Laser CoSF-1 is a low noise single frequency fiber laser module designed based on Connet's proprietary technology, a patent pending "Optimized Ring Cavity" design to eliminate the standing wave Spatial Hole Burning (SHB) phenomenon which appears easily in short linear cavity. It comes with particular ultra narrow filter and polarization controlling technology to realize PM, Single Longitudinal Mode, ultra-narrow linewidth output.
The COSF-1 series of 1.5um SF fiber laser basic module features ultra-narrow linewidth in the kHz range, extremely low RIN and intensity noise and excellent SMSR more than 50dB.In addition, CoSF-1 takes unique high-intensity package to ensure that it can normally operate in the different kinds of environment and achieve Single Longitudinal Mode & No mode-hopping output no matter under bad condition such as the temperature changes, vibration, shocking etc.
The COSF-1 series of 1.5um single frequency fiber laser basic module with mW range output power and higher output power can be customized. The center wavelength can be chosen freely in the 1535-1605nm range such as the standard wavelengths of ITU.
Features:
• Ultra narrow Lorentzian linewidth <1 kHz
• Stable single frequency & single polarization operation
• No mode-hopping, No out-bursting noise
• Low phase and intensity noise
• Flexible design, 1.0um, 1.5um, 2.0um band
• PM output, high PER
• Smart module, robust package
Applications:
• Fiber Optic Sensor
• LIDAR
• Acoustic sensing and pipeline monitoring
• Laser spectroscopy
• Coherent Communications
• Gas absorption measurement
• Metrology
• RF and microwave photonics