1908nm High Power CW Fiber Laser (SM/PM 100W)

Connet Laser Technology Co., Ltd.

2020-01-16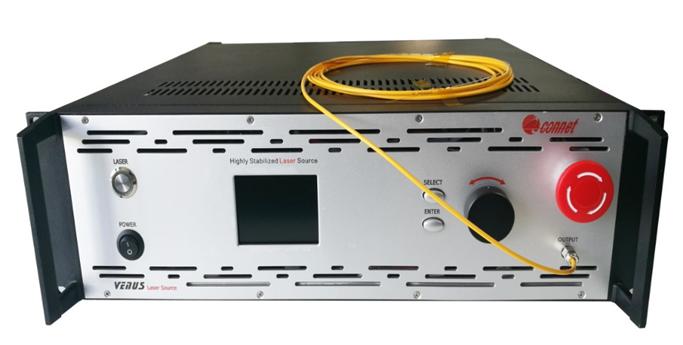 Connet 2.0um (GHz) series of high power CW fiber lasers adopt the Master Oscillator Power-Amplifier (MOPA) structure to achieve the high power output. The output power can be up to 100W with the excellent output beam quality. The generally adopted pumps are the semiconductor or fiber lasers in the bands of 793nm and 1570nm. The output polarization can be linear or random. This laser is suitable for the applications of device testing, medical treatment, remote sensing, LiDAR and mid-infrared pumping, etc. with the typical operating wavelengths of 1908nm, 1940nm, 1950nm, 2004nm and 2050nm, etc.
The 2.0um (GHz) series of high power CW fiber lasers employ the microprocessor-based control system with stable performance and maintenance-free operation. The benchtop laser can display the output power, the temperature and other working status in real time through the LCD on the front panel, and also can provide the alarm information in time. This laser system is with clear interface and easy operation.
Features
• High output power: up to 100W
• Good beam quality
• Stable power, Reliable performance
• Optional linear polarization output
• Narrow spectral width
• All-fiber design
Applications
• Medical treatment
• Mid-infrared pump source
• LiDAR
• Device testing
• Plastic material processing
• Non-linear effect study
• Other scientific research
Main Test Data:
| | |
| --- | --- |
| Parameter | Test Result |
| Measured wavelength | 1908.159 |
| Linewidth | <1nm |
| Output power | >100W |
| Measured output power | 101.5W |
| Output fiber type | BD-G25/250-11FA |
| Output connector | End Cap |
| Output spectrum | Fig. 2 |
| Dimension | 19" 3U |
【Notice】
Please make sure that the output end face of the end cap is free of contamination before laser operation. The bending diameter of the laser output fiber is recommended to be no smaller than 30cm.

Based on the optical scheme of this laser system, the seed laser will be turned on at full power with the output power of around 2W while pressing down the LASER button. Adjusting the power knob to increase the output power.

Please connect the water-cooling system properly.

As for the water-cooled laser systems, please pay attention to anti-condensation in summer and avoid leaving water to freeze in the laser systems in winter.
Product Information and Test Equipment:
Product Name

1908nm High Power CW Fiber Laser

P/N

VFLS-1908-B

Main Test Equipment

Optical Spectrum Analyzer

(YOKOGAWA AQ6375B)

Power Meter (OPHIR FL250A)
Test Environment and Power Supply:
| | |
| --- | --- |
| Parameter | Specification |
| Power Supply | 100~240VAC, 50/60Hz |
| Test Temperature | 25℃ |
| Water-cooling Temperature | 20-28℃ (Calibration @25℃) |
| Humidity | <90% |
| Warm-up Time | <30mins |
| Water-cooling Interface Dimension | Outer Diameter 10mm |
| Water Flow Requirement | >6L/min |
Schematic Diagram of Test:

Fig. 1:Schematic Diagram of Output Spectrum and Power Measurement
Measured Spectrum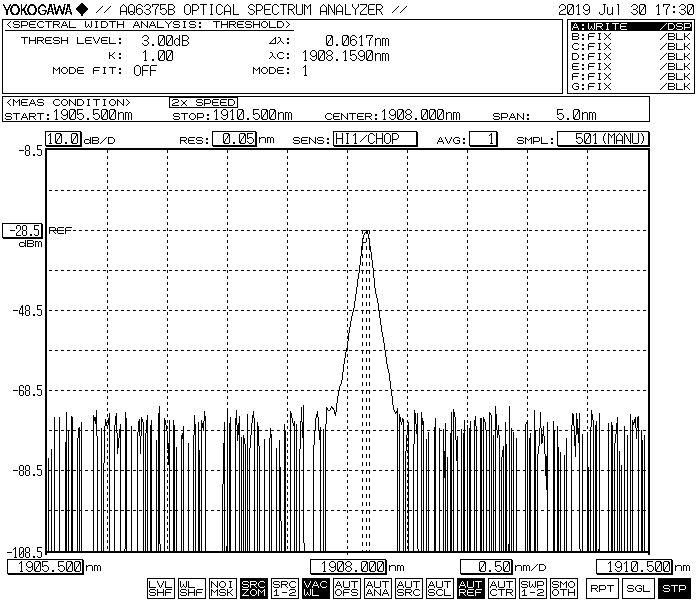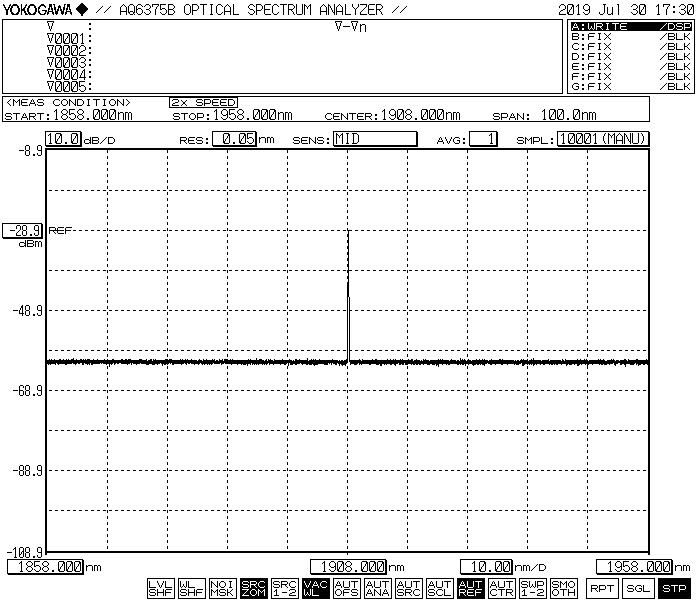 Fig. 2:Measured Spectrum @Output Power: 10W