VENUS Series 1.5um Single-mode CW Fiber Laser (Up to100W)

Connet Laser Technology Co., Ltd.

2018-09-26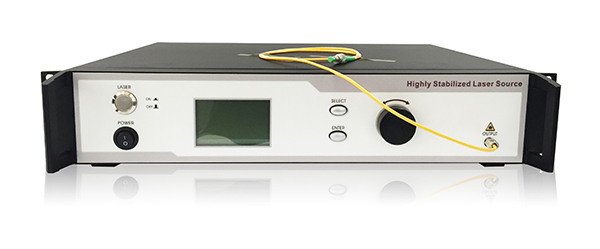 Connet VENUS Series 1.5um Single-mode CW Fiber Laser is a type of high power fiber laser based on eye-safety wavelength. This fiber laser employs the integrated design of all-fiber structure and use the double-cladding fiber pumping technology to realize the high-performance output laser and high output power up to 100W, and meanwhile achieve the near diffraction limited beam quality.
The 1.5um Single-mode CW Fiber Laser adopts the control system based on microprocessor with the performance of stability and maintenance free. The benchtop system can display the output power, the temperature and other working status in real time via the LCD on the front panel. The LCD also can provide the timely warning messages. Interface is clear and easy to use. For the convenient of system integration, Connet also can offer the modular package according to the customers' requirements.
VENUS Series 1.5um Single-mode CW Fiber Laser of Connet falls into three categories according to output power: LP (Low power-1mW-200mW), MP (Middle power-200mW-15W) and HP (High power-15W-100W)
Features:
• High output power: up to 100W
• Excellent beam quality
• High stability and reliable performance
• All-fiber structure
• Single-mode output, PM optional
Applications:
• Telecommunication
• Free space communication
• Optical fiber sensing
• Test and measurement
• Scientific research
Product Classification:
Part Number

Output Power

Dimension

VFLS-1550-B-LP

VFLS-1550-M-LP

1mW-200mW

150x125x20 (Module)

340x240x100 (Benchtop)

VFLS-1550-B-MP

VFLS-1550-M-MP

200mW-15W

200x135x41 (Module)

430x450x105 (Benchtop)

VFLS-1550-B-HP

VFLS-1550-M-HP

15W-100W

510x480x150 (Benchtop)
Main Test Data:
| | |
| --- | --- |
| Parameter | Test Result |
| Center Wavelength | 1550nm |
| Output Power | 15W (up to 100W) |
| Spectral Width | <1nm |
| Beam Quality | M2<1.2 |
| Output Isolation | >30dB |
| Output Fiber Type | SMF-28E |
| Output Fiber Length | 2m in 3.0mm PVC jacket with FC/APC |
| Communication Interface | RS232 |
| Dimension | 430x450x105mm |
Notes: The output power is measured with the fiber connector.
Product Information and Main Test Equipment:
Product

VENUS Series 1.5um Single-mode CW Fiber Laser

P/N

VFLS-1550-B-MP

Main Test Equipment

Power Meter (COHERENT PM30)

Optical Spectrum Analyzer (ANRITSU MS9710C)

Beam Quality Tester (PHOTON NMS-NS2S-PYRO/9/5)

ATT
Test Environment and Power Supply:
| | |
| --- | --- |
| Parameter | Specification |
| Power Supply | 100~240VAC, 50/60Hz |
| Storage Temperature | 0℃~ 35℃ |
| Test Temperature | 25℃ |
| Humidity | ≤90% |
| Warm-up Time | <30mins |
Schematic Diagram of Test:

Measured Spectrum: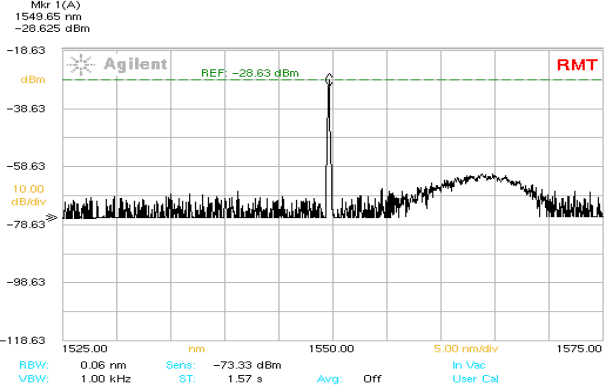 Measured Beam Quality: