1550nm High Power Single Frequency Fiber Laser (Ideal Source for Short-distance Wind LiDAR)

Connet Laser Technology Co., Ltd.

2018-07-31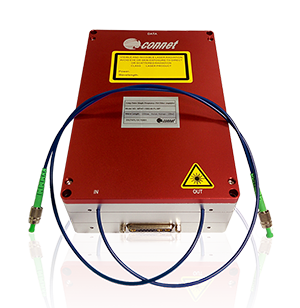 Connet CoWIND series 1550nm High Power Single Frequency Fiber Laser module is a modularized narrow linewidth fiber laser specifically designed for short-distance high-precision Coherent LIDAR for wind sensing. Based on eye-safety operating wavelength, the laser is with single frequency single longitudinal mode operation with a long coherence length. The standard laser uses the polarization-maintaining fiber output to realize the high polarization extinction ratio (PER)and the high output power up to 2W.
This CoWIND series 1550nm high power single frequency fiber laser module adopts the Master Oscillator Power Amplifier (MOPA) structure design. The seed laser is with the characteristics of single frequency, low noise and narrow linewidth. The optimized polarization-maintaining fiber amplifier is for power boosting. The compact and robust modular design is suitable for various harsh environments, typically applied to Coherent Wind LiDAR in wind power field and airborne wind LIDAR, etc.
Features
• Center wavelength:1550nm
• Continuous wave(CW) operation
• Output power: 0.5-2W
• Linewidth: <50kHz (<5kHz optional)
• High polarization extinction ratio (PER)
• Compact and robust


Applications


• Coherent Doppler wind-measurement LIDAR
• Environmental monitoring
• Pollution monitoring
• Other scientific research
Main Specifications:
| | |
| --- | --- |
| Specifications | Measured Values |
| Max. Output Power | 2W |
| Center Wavelength | 1550nm |
| Linewidth | 50kHz |
| Output Beam Quality (M2) | <1.05 |
| Relative Intensity Noise (RIN) | <-125dB/Hz@1MHz |
| Dimension | 200(L)x135(W)x41(H)mm |
Product Information and Test Equipment:
Product Name

1550nm High Power Single Frequency Fiber Laser

P/N

CoWIND-1550-M-SF

Main Test Equipment

Power Meter (OPHIR NOVAⅡ)

Spectrometer (YOKOGAWA AQ6375)

Spectrum Analyzer (AGILENT E4401B)

Detector (Conquer KG-PR-1G)
Test Environment and Power Supply:
| | |
| --- | --- |
| Parameter | Technical Data |
| Power Supply | 12VDC, 3A |
| Test Temperature | 250C |
| Ambient Humidity | <90% |
| Worm-up Time | <30mins |
Linewidth Test Set-up:

Measured Spectrum: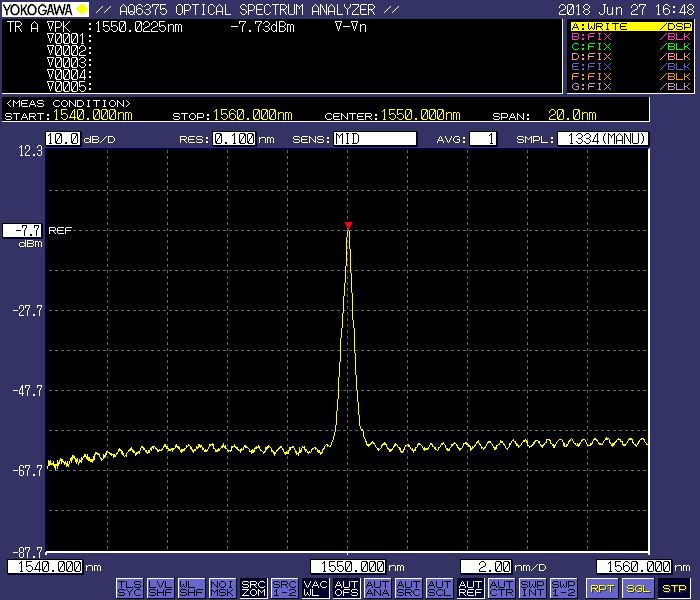 Beat Frequency Result