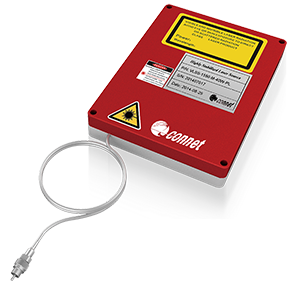 The CoSF-R single-frequency fiber laser adopts the unique "optimized traveling wave cavity" design, which eliminates the spatial hole burning(SHB) phenomenon of the linear cavity fiber laser that is prone to standing wave. Longitudinal mode output ensures single-frequency operation of fiber lasers, while using a unique polarization control technology to eliminate polarization hole burning on the basis of all-fiber design, thereby achieving stable linear polarization, single longitudinal mode, ultra-narrow Single frequency laser output with line width.
Benefit from the combination of key technologies such as ultra-long laser resonator length, traveling-wave cavity design, polarization control technology, ultra-narrow linewidth all-fiber micro-cavity with extremely high Q factor. The CoSF-R ultra-narrow linewidth single-frequency fiber laser is expected to become the industry's lowest comprehensive noise single-frequency fiber laser, although it is still facing challenges in terms of resistance to environmental interference, such as temperature, sound, and vibration. Connet is committed to continuously improving the noise performance of CoSF-R and developing a lower-noise ultra-narrow linewidth single-frequency fiber laser.
Connet low-noise ultra-narrow linewidth single-frequency fiber laser has excellent performance, the output optical spectrum linewidth is far less than 1kHz, with ultra-low phase noise and frequency noise.